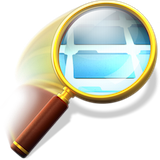 Find Any File (FAF)
Key Features
Convenient folder and icon views for results
Can search in other users' home folders ("root" mode)
Queries can be saved for easy re-use
Can be launched with a self defined keyboard shortcut
Localized in the following languages: English, German, French, Italian, Spanish, Portuguese. More languages are available (but may be incomplete) - please inquire.
Older Versions
Find Any File is Shareware
You may try it out without buying first. Simply download it.
If you keep using it you are expected to pay for it, though.
New in version 2.1.1:
Icons in Preview Grid should look correct again.
Does not remove Volumes from Login Items any more.
New in version 2.1:
Includes Spotlight for even faster results.
Many bug fixes.
New in version 2.0:
FAF is now a 64 bit app.
Shows results as soon as they're found.
Can search by Kind (Images, Audio, etc.).
Can search with regular expressions.
New in version 1.9.4:
Compatible with version 2 in regards to preferences and .faf files.
Several bug fixes.
Purchasing Find Any File
Here you can purchase licenses that are meant to be used either as a "single user" (for accounts on any computers you and your family uses) or "single computer" (for professional use in a company where multiple users may use the same computer).
Find Any File costs US $6 if you pay via Paypal or FastSpring (or $8 in the App Store).
You have the following payment options:
Note: Choose FastSpring or the Mac App Store if you need a formal invoice!
Once you've paid, you'll get instructions on how to stop the recurring purchase reminder in the program.
Note: I advise against buying from the App Store because:
The App Store version is slightly more expensive, with the extra money going to waste (i.e. Apple keeps 30% of the sale while the others take 10% or less).
If you value Find Any File so much that you like to give me more than the minimum amount, you can do so when you pay via FastSpring or Paypal. (Many do, and it always lights up my day!)
Paying with Paypal
You may either pay the minimum or pay more if you feel generous (I'd certainly appreciate it).
Volume purchases
For purchasing a few more licenses use Paypal or FastSpring - both offer the option to enter a quantity.
If you like to purchase more than a handful and like to get a volume discount, use FastSpring or contact me directly (see blue link at the top right of this page).