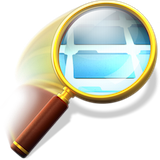 Find Any File (FAF)
Key Features
Convenient folder and icon views for results
Can search in other users' home folders ("root" mode)
Queries can be saved for easy re-use
Can be launched with a self defined keyboard shortcut
Localized in the following languages: English, German, French, Italian, Spanish, Portuguese. More languages are available (but may be incomplete) - please inquire.
Older Versions
Find Any File is Shareware
You may try it out without buying first. Simply download it.
If you keep using it you are expected to pay for it, though.
New in version 2.1.1:
Icons in Preview Grid should look correct again.
Does not remove Volumes from Login Items any more.
New in version 2.1:
Includes Spotlight for even faster results.
Many bug fixes.
New in version 2.0:
FAF is now a 64 bit app.
Shows results as soon as they're found.
Can search by Kind (Images, Audio, etc.).
Can search with regular expressions.
New in version 1.9.4:
Compatible with version 2 in regards to preferences and .faf files.
Several bug fixes.
Version History of Find Any File
For a complete version history of version 1, see here.

2.1.1, 10 Nov 19:

Icons in Preview Grid should look correct again.
Does not remove Volumes from Login Items any more.

2.1, 9 Nov 19:

New: Includes Spotlight results, leading to faster finds if "Show Results Early" is also enabled.
Fixes a critical issue where searching entire volumes could miss some items, especially on fast network volumes such as Helios AFP servers.
Fixes some Spotlight search issues on Synology NAS volumes (called Universal Search there).
Searching for text content with non-latin characters (such as the Cyrillic script) does not freeze the app any more.
Several fixes and improvements around searching in "root mode".
The manual (see Help menu, "Documentation") has been much improved, explaining the search options in more detail.
Changed: The Edit commands "Copy" and "Copy Names" have been exchanged to match the Finder's commands better, now called "Copy" and "Copy Columns".
Fixed: When using the Service "FAF: Search Folder(s)" from the Finder, the search doesn't start on its own any more.
Fixes a crash when searching for dates.
English wording for some search rules has been updated to match Spotlight's.
File names are again painted in their Label colors as it was in version 1.
Brings back version 1's ability to search for Owner ID and Group ID (hold down the option key when clicking the "Name" popup).
Fixed: After moving or deleting files, FAF now always updates the results accordingly, even on network volumes.
Fixes a crash when sorting the column showing the full path.
Fixes a crash when using "Make Invisible".
Fixes searching "in Finder selection".
Brings back all Services in Context menu, like in version 1.
During QuickLook, using the cursor keys doesn't close the window any more.
Fixes sorting of Kind column.
Completes missing localizations in French, Spanish and Portuguese.

2.0, 6 Oct 19:

Important for macOS 10.15: You have now two volumes to select from for searching your startup disk: One is called "Data", the other "macOS System". The former searches all your own data, whereas the latter searches the protected files provided by Apple, like the System folder and Apple's applications. If in doubt, choose to search "on local disks".
New: FAF is now a 64 bit application, ready to run on macOS 10.15 and later.
New: The preference "Show Results Early" lets you see found items immedialety, instead of having to wait until the search is finished.
New: A "Kind" rule lets you search for image, video, audio, text or plain-text files.
New: A "File Type UTI" rule lets you search for file types, expressed by their UTI code such as "public.font".
New: File Name and Content searches now let you specify a regular expression (regex, grep) pattern.
New: "Save As Defaults" now has a keyboard shortcut (cmd-opt-S).
New: Everyone can now add or replace translations more easily: Place the translation's ".lproj" folder into "~/Library/Application Support/Find Any File/" and FAF will automatically find it if your chosen system language matches it. New translations, including Croatian (thanks to Alen Bajo), can be downloaded from here.
Changed: Removed translations for Norwegian, Swedish and Czech from the app because they're rarely used and cause me too much work to maintain them all. You can add them now again manually, see above.
Changed: Web links are now pointing to findanyfile.app instead of apps.tempel.org/FindAnyFile.
New hidden preferences (use my app Prefs Editor to set them, or use the Terminal command `defaults write ...`)

"Size shows Finder units" - NO: v1 style, YES: Finder style.
Copying 1000s of items to the clipboard can be made faster if you only need the text, not the actual file references (which are only needed for pasting the actual files somewhere). Set the app's "Copy includes file references" preference to NO.